Representation • Domain Knowledge • Move Operators
Our approach to search is informed by the insight that three features are dominant in determining the effectiveness of optimization methods. These are domain knowledge, problem representation and choice of move operators.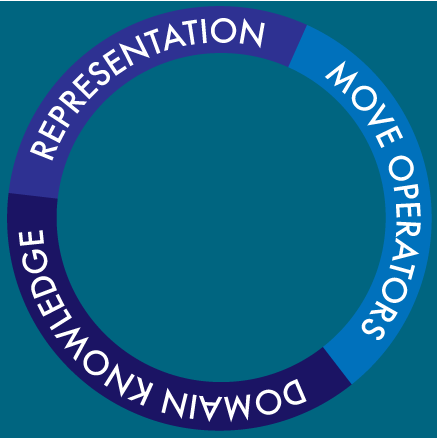 It all starts with domain knowledge, because without that stochastic methods are reduced to the very aimless wandering that is evolution's caricature.* So our first step is always to capture what is known about the problem from whatever sources of information are available. This can include interviewing domain experts, studying current and previous approaches, reviewing the literature and, where possible, directly probing or studying whatever system is being optimized.
The domain knowledge then has to be encapsulated in a way that makes it available in a useful form to the search algorithm. This is achieved through a combination of the choice of problem representation (logical, rather than physical, normally) and the move operators to be employed during the search.
Nick Radcliffe, who founded Stochastic Solutions, has worked for many years on the relationship between these three pivotal aspects of search, and has developed, through a series of publications, a solid theory of representation for stochastic search in general, and evolutionary algorithms more particularly, called forma analysis. This is an intensely practical theory that helps move from specific insights about a problem, through a systematic process that aids the production of suitable problem representations and move operators. These can then be used directly, or modified further, using heuristic insights, to produce a sound and effective approach to the problem at hand.
*The careful reader may wonder where natural evolution's ``domain knowledge'' comes from. The difference here arises because our goal is to harness the power of evolution to to a particular end — usually, to optimize a function. In natural evolution, the goal is implicit: it is survival through the generations. It is in bending evolution to our own ends that the requirement for domain knowledge surfaces.